MEMORIAL PLAQUE No. 1
(East facing)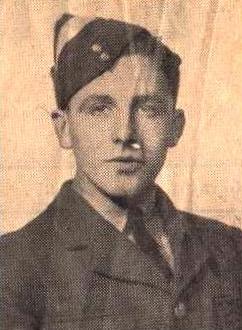 Pilot Officer Alexander Stewart AIRD was the son of Alexander and Annie Weir Donaldson AIRD, and was born in approximately 1923. Alexander joined the 13th Squadron of the Royal Air Force Volunteer Reserve, where he worked as a bomber navigator, and was killed on 3 MAY 1944. he was subsequently buried at Sangro River War cemetery in Italy. Alexander's service number was 177565.

Alexander was always referred to as "Stewart" by his family. His nephew, Douglas McEwan, contacted me in July 2008 to say that he had recently made a trip to the Sangro River War Cemetery in Italy to see his uncle's grave. As a tribute to him, Douglas has created a web page about Stewart's story within his main family history website, which can be accessed at

www.mcewans.uwclub.net/Sangro%20River

The site contains a newspaper report in the local Largs press on Friday, May 26th 1944, which stated the following:

Largs Airman Killed

Flight Sergeant Stewart Aird (whose picture we give above), previously reported missing and now officially reported killed , was the only son of the late Mr and Mrs Aird of Richardene, Allanpark Street, Largs. Prior to his training in Canada with the R.A.F. he was an apprentice with a firm of chartered accountants in Glasgow. He was 21 years of age.

Many thanks indeed to Douglas for his contribution.
William ANDERSON
Able Seaman William ANDERSON was the son of Peter and Elizabeth ANDERSON of Largs, and was born in approximately 1920. William served on board HMS Glorious and was killed on 8 JUN 1940. William's service number was D/JX 148587, and he is also commemorated on the Plymouth Naval Memorial in Devonshire, England.
Henry E. BARNETT
Private Henry Edward BARNETT was the son of Hamilton and Eliza BARNETT of Largs, and was born in approximately 1907. He fought with the 2/28th Infantry Battalion of the Australian Infantry, and was killed in Italy on 8 AUG 1942, being subsequently buried at Caserta War Cemetery. Henry's service number was WX7056.
Duncan BLACKSTOCK
Chief Officer Duncan BLACKSTOCK was a member of the Merchant Navy, serving on board M.V. Oakbank (Glasgow). Born in approximately 1892, Duncan was killed on 1 SEP 1945, leaving behind a wife, Helen BLACKSTOCK of Largs. Duncan is buried in Largs Cemetery.
Robert W. BLAIR
Joiner 4th Class Robert Wingate BLAIR was a member of the Royal navy serving on board H. M. S. Fraserburgh, who was killed on 31 DEC 1943. Robert was subsequently buried at Largs Cemetery. His service number was C/MX 118398.
William J. BLYTH
James M. BOYCE
Private James Martin BOYCE was the husband of Elizabeth Moffat BOYCE of Largs. Serving with the Argyll and Sutherland Highlanders, James was killed on 24 OCT 1945.
Ian D. BRADLEY
Sergeant Ian Duncan BRADLEY was the son of Thomas and Louisa May Harper BRADLEY of Largs, and was born in approximately 1923. Ian flew with 53 Squadron of the RAF and was killed on 26 MAR 1943. He is commemorated on the Runnymede Memorial on the Thames; his service number was 1374989.
James BROGAN
Private James BROGAN was the son of Patrick and Mary BROGAN of Largs, and was born in approximately 1919. He served with 33 Detail Issue Depot of the Royal Army Service Corps, and died on 2 JUN 1941 in Egypt. James was buried at the Port Said War Memorial Cemetery. His service number was S/197240.
Francis G. BURGESS
Flying Officer Francis George BURGESS was the son of Francis John and Jessie Ann BURGESS of Kilmarnock, and was born in approximately 1922. He flew with 272 Squadron of the Royal Air Force Volunteer Reserve and died on 4 SEP 1944. Francis is commemorated on the Malta Memorial; his service number was 151037.
Thomas R. CAIRNS
Robert CAMPBELL
James A. C. CARSWELL
George CORBETT
Walter D. COWAN
Adam CRAWFORD
John S. CRAWFORD
William CULLING
William CULLING was the husband of Agnes MARTIN, sister of Gunner John MARTIN, noted as a casulaty on the Largs war memorial for the First World War. Serving as a Commando, William was tragically killed on the raid on the Norwegian ports of Vaagso and Malloy in December 1941, and as such never got to see his only daughter Lillian, who was born shortly after in April 1942.

Many thanks to William's great nephew Gerald Martin for supplying this information in September 2007.
Wilbert CULLY
Ebenezer M. DEANS
George H. C. DEANS
William McK. DELVIN
John DOUGLAS
James DUNAN

MEMORIAL PLAQUE No. 2
(North facing)
John DUNAN
John M. FERGUSON
Joseph G. FREEDMAN
John GORRIE
James HENDRY
Walter HENRY
Roy G. H. HERBERT
Alexander HOLMES
Frederick HOPKINS
William L. JACKSON
Hugh Mc L. MACKIE
John MAINS
Fulton MARSHALL
Archibald MAXWELL
John McGREISH
John McGUFFIE
Alistair MacKAY
Alexander McKECHAN
Walter R. MacKINNON
John K. MacMILLAN
Archibald MacPHERSON
William McVEAN
John NINIAN
James O' DONNELL

MEMORIAL PLAQUE No. 3
(West facing)
James PICKEN
Ian H. ROBERTSON
Eric S. ROSS
Ernest R. SIMPSON
Alexander P. SMITH
David SMITH
Eric SPIERS
William A. M. B. STEWART
Alexander THOMSON
William S. URE
Godfrey VASEY
James WATSON
Hugh F. D. WHITELAW
John WILLIAMSON
Thomas WILLIAMSON
Guy B. S. WILSON
Joseph B. WITHER
Douglas E. WOODS
William G. YOUNG

Sources