OTHER SERVICES
SURNAME DEFINITIONS
The meanings of surnames can be derived from many different sources, be they
locational, descriptive, fealtic, patronymic or occupational. The root components
of many names come from many of the languages used in Scotland throughout
time - Latin, Brythonic Celtic (early Welsh), Scottish Gaelic or Old English (Anglo-Saxon).
I offer a look up service to explain the meanings of your Scottish surnames,
with brief histories of their earliest known recordings, for a cost of £3 per surname.

PHOTOGRAPHY
If there is a location that you wish to have photographed or filmed, this can also be
arranged, subject to any necessary permissions being obtained from
landowners beforehand.
Photographs can either be taken either digitally or on film, subject to your
preferences and requirements.
The rate for this will be £8 per half hour plus expenses (petrol etc).
Garth Cottage, near Stanley, Perthshire
GRAVEYARD SEARCHES
I am happy to search any graveyard for a particular plot, again at the rate of £8
per half hour (one hour minimum), plus travel expenses. With enough notice,
I can contact the relevant authorities to try and pinpoint a grave prior to my
visit. Transcriptions of the inscriptions can be made, or photographs taken of
the headstones, where they still stand, charged at the above rate.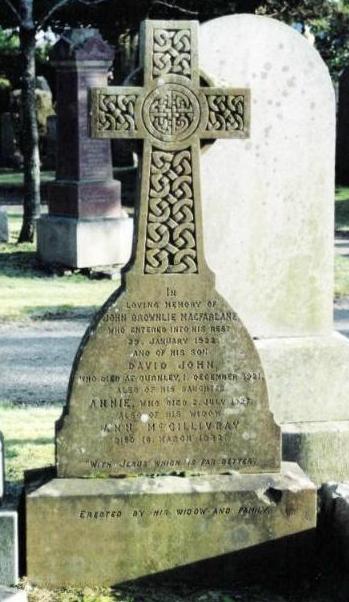 Grave at Tomnahurich Cemetery, Inverness
SCOTLAND'S
Greatest Story
Chris Paton, BA (Hons), HND, PGD (Genealogical Studies)
22 Lindsay Crescent, Largs, North Ayrshire, Scotland, KA30 9JR
Tel: 0044 1475 674118
Mob/Cell: 0044 7941 118183
E-mail:


.
Powered by WebRing.
.
.